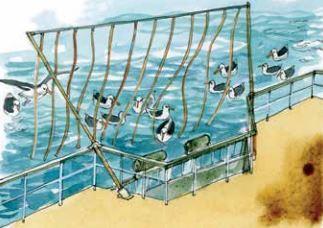 © ACAP & Birdlife International
Seabirds
This description relies upon:
The Brickle Curtain is a deterrent device that forms a protective barrier around the hauling hatch. It is composed of vertically hanging streamers supported by poles fixed to the railing above the hauling hatch. This measure is very effective at deterring birds from approaching the hauling hatch.
Effectiveness at reducing haul hooking
There is little data to suggest how effective individual measures, such as the Brickle curtain, are at preventing haul hooking. However, a combination of measures aimed at haul mitigation has been shown to potentially reduce bycatch in the CCAMLR Patagonian toothfish fishery. These include the use of a Brickle Curtain and offal discharge on the opposite side to the hauling hatch (CCAMLR Conservation Measure 25-02; in this CM Brickle Curtain is not mentioned specifically, rather, the requirement is for a device designed to discourage birds from accessing baits during the haul of longlines).
Recommendations for deployment
Appropriate use of a Brickle Curtain can greatly reduce the number of birds hooked during hauling.
Effect on Other Bycatch Species
Ease of Deployment and Safety
In heavy weather, the vertically hanging streamers, often weighted at the bottom, can flick up and interfere with fishermen working at the hauling hatch.
Compliance
Fishermen may not regard haul hooking as a serious problem, as birds are nearly always released alive and the long-term implications of injuries sustained are not considered. Haul mitigation measures, including the Brickle curtain, can be inconvenient during operational processes, and generally have low compliance. Even with strict regulations and 100% observer coverage to monitor these measures, 100% compliance is not easy to achieve. Greater awareness is needed among fishermen of the long-term implications for birds that are hooked on hauling, as even those released alive face reduced likelihood of long-term survival.
Further Research
Research is required to identify standard specifications for a Brickle Curtain specifically for demersal and longline fisheries.
References
Birdlife International (2014) Bycatch Mitigation Fact-Sheet 12. Demersal and Pelagic Longline: Haul mitigation. English, Japanese, Korean, Portuguese, Simplified & Traditional Chinese.