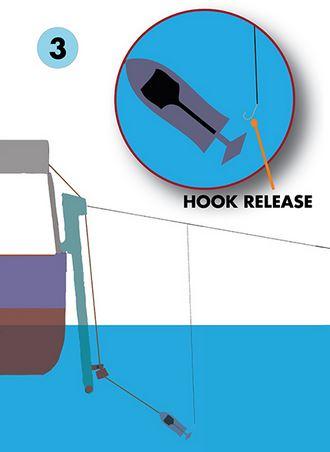 Source http://www.underwaterbaitsetter.com.au/bait-setter/how-it-works/
Underwater setting techniques are means of deploying baited hooks below the surface of the sea, out of the sight and reach of foraging seabirds.
Examples of underwater setting techniques include:
the underwater bait setter, also known as a bait setting capsule or underwater bait launcher; and
underwater setting tubes or chutes.
While versions of the setting tubes or chutes have been trialed in pelagic longline fisheries, they are currently used only in demersal longline fisheries (see Birdlife International Factsheet 6 Demersal Longline: Underwater setting chute) and are not discussed here. Likewise, underwater setting funnels or lining tubes apply to demersal longline fisheries.
Underwater bait setting devices deploy baited hooks at a pre-determined depth immediately at the stern of the vessel. They allow individual baited hooks to be deployed underwater down a track fitted to the fishing vessel's transom, enclosed in a capsule or similar device, to eliminate any visual stimulus for seabirds following the vessel. The capsule is pulled quickly underwater to a predetermined target depth that can be adjusted in response to the dive capabilities of seabirds attending the vessel during line setting to prevent interactions.
ACAP (2023) used the following performance requirements to assess the efficacy of underwater bait setting devices in reducing seabird bycatch in pelagic longline fisheries:
The device deploys encapsulated hooks in a vertical manner at the stern of the vessel until a minimum prescribed depth of 5 m is reached;
branch lines meet current recommended minimum standards for branch line weighting; and
experimental research has been undertaken to allow assessment of the effectiveness, efficiency and practicality of the technology against the ACAP best practice seabird bycatch mitigation criteria developed for assessing and recommending best practice advice on seabird bycatch mitigation measures.
The following commercially available underwater bait setter has been assessed by ACAP (May 2023) as meeting these performance requirements and is considered to represent best practice, when used in conjunction with branch line weighting. 
'Underwater Bait Setter (Skadia Technologies)' – a computer operated and hydraulically powered machine that deploys baited hooks individually underwater in a capsule, and where recommended minimum standards for branch line weighting are met. The capsule is pulled down a removable track fitted to the vessel's transom and then catapulted to a target depth. The capsule descends along the track at 6 m.sec-1 and thereafter at ≥3 m.sec-1 (Robertson et al. 2015, Robertson et al. 2018, Barrington 2021).
The Skadia device is stern-mounted and hydraulically-operated. Baited hooks are carried underwater in a steel capsule connected to hydraulic winches by Spectra® rope. Baits are flushed from the capsule with water pressure from a spring-loaded door in the bottom section of the capsule, allowing release of baited hooks beneath the dive depths of albatrosses and petrels.
Development of the Skadia underwater bait setter has progressed through several stages (Robertson et al 2015, 2018). The most recent published research reports that:
Baited hooks released 4 m underwater reduced seabird mortality by 87% compared to baits set at the sea surface.
Baits set 10 m underwater reduced seabird mortality by 100%.
Baits set underwater were associated with marked reductions in ship following and attacks.
Southern Seabirds Solutions describes updates on at-sea trials conducted in 2019. A video illustrating use of the underwater bait setter can be accessed here.
Effect on Other Bycatch Species
Ease of Deployment and Safety
ACAP (2019), in their 'Advice on Improving Safety when Hauling Branchlines during Pelagic Longline Fishing Operations' found that underwear setting devices warrant further research. This is because these technologies may reduce or eliminate the need for branchline weighting, thus avoiding dangerous 'flybacks' or 'tear outs', as setting occurs by stealth at a depth beyond the depth ordinarily reached by diving seabirds.
Compliance
A combination of port-based inspections and vessel-based autonomous data collection and surveillance (e.g. observer inspection of line setting operations; autonomous electronic surveillance and data collection; at-sea compliance checks) will be required to assess use and compliance.
Further Research
Conduct further field research to evaluate the effect of shallow set (e.g. 4-5 m depth) baits and deep set baits (e.g. 6-10 m depth) on seabird ship-following behaviour and attacks on bait with an Underwater Bait Setter (Skadia Technologies) in constant use. This was not assessed by Robertson et al. (2018) who set alternate groups of hooks underwater and groups of hooks at the surface to compare relative effects). Conduct further field research to evaluate the performance of the Underwater Bait Setter (Skadia Technologies) with unweighted branch lines.
References
ACAP (2023) ACAP Review of mitigation measures and Best Practice Advice for Reducing the Impact of Pelagic Longline Fisheries on Seabirds. In: ACAP - Thirteenth Meeting of the Advisory Committee, Edinburg, UK.
ACAP Secretariat (2019) ACAP Advice on Improving Safety when Hauling Branchlines during Pelagic Longline Fishing Operations. In: ACAP - Eleventh Meeting of the Advisory Committee. Florianópolis, Brazil
Barrington J (2021) Underwater Bait Setting as best practice seabird bycatch mitigation in pelagic longline fisheries. In: ACAP - Tenth Meeting of the Seabird Bycatch Working Group. ACAP SBWG10 Doc 12, Electronic Meeting
Robertson G, Ashworth P, Ashworth P, et al (2015) The Development and Operational Testing of an Underwater Bait Setting System to Prevent the Mortality of Albatrosses and Petrels in Pelagic Longline Fisheries. OJMS 05:1–12. https://doi.org/10.4236/ojms.2015.51001
Robertson G, Ashworth P, Ashworth P, et al (2018) Setting baited hooks by stealth (underwater) can prevent the incidental mortality of albatrosses and petrels in pelagic longline fisheries. Biological Conservation 225:134–143. https://doi.org/10.1016/j.biocon.2018.06.026