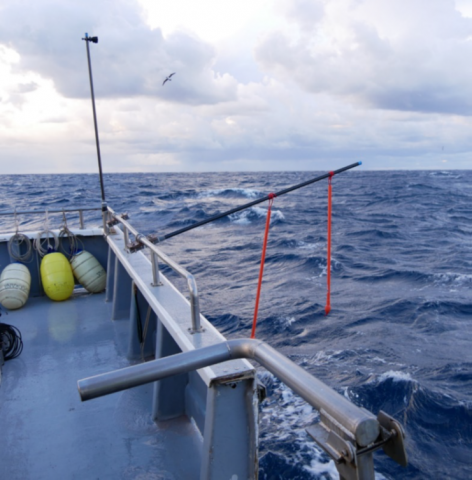 © Goad & Peatman 2021
Seabirds are attracted to longliners during hauling to feed on discards, offal and spent bait. Birds can easily become hooked in the bill, foot or wing, as the line returns to the surface or swallow hooks left in discards or bait. These interactions are rarely lethal at the time, but the injuries sustained could have serious implications for the long-term survival of the individuals concerned. Haul mitigation refers to strategies and devices that can reduce such interactions.
Few strategies or devices to reduce seabird hooking during line hauling have been developed and thoroughly tested for pelagic longline fisheries. However, in principle they are similar to those used to prevent bycatch during line setting. They include (i) deterrent devices to keep birds away from hooks and (ii) discard management (see Management of offal discharge) to make the hauling area less attractive.
 Recent experimental work [3] has demonstrated that simple and cheap hauling mitigation devices have the potential to reduce bycatch risk to seabirds during longline hauling with minimal impact on fishing operations of small vessels. Examples trialed include the following:
a rail mounted mitigation device, fitted behind the hauling station on the port side of the vessel
a horizontal pole suspending a vertical dropper 3.5 m outside of the vessel, aft of the hauling station approximately two metres forward of the transom, on the starboard side of the vessel
Effect on Other Bycatch Species
Compliance
Fishers may not regard haul hooking as a serious problem, as birds are nearly always released alive and the long-term implications of injuries sustained are not considered. Haul mitigation measures, such bird curtains, can be inconvenient during operational processes, and generally have low compliance. Even with strict regulations and 100% observer coverage to monitor these measures, 100% compliance is not easy to achieve. Greater awareness is needed among fishers of the long-term implications for birds that are hooked on hauling, as even those released alive face reduced likelihood of long-term survival. [2]
Further Research
Developing methods that minimize seabird hooking during line hauling in pelagic longline fisheries remains an urgent research priority. [1]
References
ACAP (2021) ACAP Review of mitigation measures and Best Practice Advice for Reducing the Impact of Pelagic Longline Fisheries on Seabirds. In: ACAP - Twelth Meeting of the Advisory Committee. Online
Birdlife International (2014) Bycatch Mitigation Fact-Sheet 12. Demersal and Pelagic Longline: Haul mitigation. English, French, Japanese, Korean, Portuguese, Simplified & Traditional Chinese, Spanish.
Goad D, Peatman T (2021) Hauling mitigation for small longline vessels. Final Report MIT2018-02 Dept Conservation, New Zealand
Parker G, Molloy J (2017) Stocktake of measures for mitigating the incidental capture of seabirds in New Zealand commercial fisheries. In: ACAP - Eighth Meeting of the Seabird Bycatch Working Group. SBWG8-Doc-INF20, Wellington, New Zealand
Pierre JP (2018) Conservation Services Programme Project MIT2015-02: Mitigating seabird captures during hauling on smaller longline vessels