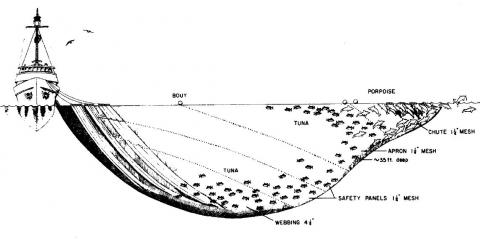 In: Barham E, Taguchi W, Reilly S (1977) Porpoise Rescue Methods in the Yellowfin Purse Seine Fishery and the Importance of Medina Panel Mesh Size. Marine Fisheries Review 03:1–10
Bycatch of dolphins and porpoises was a significant problem in tuna purse seine fisheries in the eastern tropical Pacific Ocean until the adoption of several technologies, here grouped as the 'backdown procedure and Medina panel'. These technologies were mostly developed by fishers and include:
the `backdown' procedure;
the Medina panel; and
the use of rescue rafts and speed boats [1].
With the 'backdown' procedure, the vessel is put in reverse after encircling dolphins. This pulls the net which becomes elongated and forms a channel. The water resistance causes the corkline to sink a few metres at the opposite end. As the dolphins remain close to the surface while the tunas are lower in the net, the dolphins can exit the net through the opening. When all dolphins have escaped the backdown stops and the seining operation is completed [2].
The Medina Panel, a section of smaller-meshed webbing in the part of the net with which dolphins most often come in contact, helps to keep them from entanglement. It is placed at the end of the backdown channel to increase resistance to the water flow and increase sinking of the corkline [1,2].
Other measures used in combination with those above that have proven useful in enabling dolphins to escape the net include the use of rescue rafts and other means of hand rescue. Speedboats are also used - to pull the net and keep it open, allowing the dolphins to escape [1,2].
The backdown and Medina panel technologies, in combination with other management actions such as onboard observers, take limits, skipper and crew education and spatial and temporal measures (avoiding dolphin 'hotspots') resulted in gradual change so that between 1986 and 1998 dolphin mortality declined by 98% [3].
References
Hall, M.A. 1998. An ecological view of the tuna-dolphin problem: impacts and trade-offs. Reviews in Fish Biology and Fisheries (1): 1-34.
Hall, M. and Roman, M. 2013. Bycatches and non-tuna catches in the tropical tuna purse seine fisheries of the world. Technical Paper, FAO, Rome.
Hall, M.A., Alverson, D.L., and Metuzals, K.I. 2000. By-catch: problems and solutions. Marine Pollution Bulletin (1): 204–219.