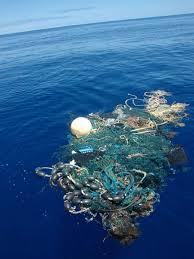 NOAA - Marine Debris Program
Management of abandoned, lost, discarded fishing gear (ALDFG) refers to the management of fishing gear - onboard and deployed, e.g., FADs - and retrieval of lost gear as a means of reducing fisheries bycatch. In recent years, tuna RFMOs, to varying degrees, have adopted binding measures (e.g. marking and tracking of gear) and data collection protocols to address the issue.
The factors which cause fishing gear to be abandoned, lost, or otherwise discarded are numerous and include: adverse weather; operational fishing factors including the cost of gear retrieval; gear conflicts; illegal, unregulated and unreported (IUU) fishing; vandalism/theft; and access to and cost and availability of shoreside collection facilities. Weather, operational fishing factors and gear conflicts are probably the most significant factors, but the causes of ALDFG accumulation are poorly documented and not well understood.  
In the tuna and billfish fisheries, examples of ALDFG might include purse seine nets, gillnets, abandoned (non-ecologically friendly) FADs, longline, hooks, lightsticks, buoys/floats and packaging arising from bait, hooks etc.  
Measures to reduce ALDFG include those which are preventative and those which are curative
.
Evidence suggests that while both are important, much of the emphasis to date has been placed on curative measures such as gear retrieval programmes and clean-up of beach litter, while preventative measures may generally be more cost-effective in reducing ALDFG debris and its impacts. In a recent report on the status of international monitoring and management of ALDFG,
Gilman et al
(2015) present a summary table of the binding measures and data collection protocols adopted by tuna RFMOs.
Ease of Deployment and Safety
Multiple issues to be considered.
References
Macfadyen, G., Huntington, T., Cappell, R. 2009. Abandoned, lost or otherwise discarded fishing gear. UNEP Regional Seas Reports and Studies, No. 185; FAO Fisheries and Aquaculture Technical Paper, No. 523. Rome, UNEP/FAO.

Gilman, E. 2015. Status of international monitoring and management of abandoned, lost and discarded fishing gear and ghost fishing. Marine Policy 60:225–239. doi:

10.1016/j.marpol.2015.06.016